Solar Water Pumping system is a water lifting system powered by electricity generated by Solar panels. These systems typical uses for Fountain pumps, Pool pumps, Transfer pumps, Circulation pumps in ponds, Providing water for livestock, Irrigation pumps, Home pumps, horticulture farms and other similar applications. Using solar water pump is more economical where grid electricity is not available. There are two types of Solar Water Pumps, one is Submersible Solar Pump and another is Surface Solar Pump. Both pumps are available in DC and AC.
Major components of Solar Water Pumping System

Solar Panels which generate power
Controller which controls the System
Motor Pump to lift the water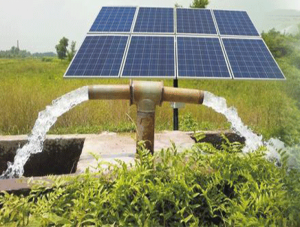 Solar Pump Manufacturers
Solar Water Pumps are available in Tata Power Solar pumps, Shakti Solar Pumps, Jain Irrigation Solar Pumps, KSB Solar Pumps, CRI Solar Pumps, Falcon Solar Pumps, Texmo Solar Pumps, Kirloskar Solar Pumps, KBL Solar Pumps, Crompton Greaves Solar Pumps, Lubi Solar Pumps, Oswal Solar Pumps etc.