Solar Power-Indian Petrol Pumps
Over country has more than 50,000 petrol pump stations catering to the fuel demand of the country. In which near about 20,000 of these belong to Indian Oil (IOCL) and 6,000 each to Bharat Petroleum (BPCL) & Hindustan Petroleum (HPCL).Some other agencies related to petroleum and natural are also planning to installed or open solar petrol pump in future. IOCL has more number of petrol stations in India than that present in the whole of Canada or UK.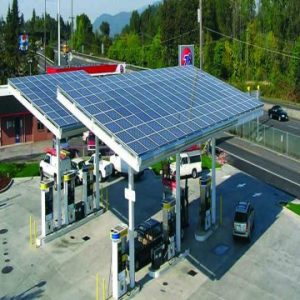 Petrol pumps need substantial amount of electricity daily. On average, a petrol pump needs 5KW of power for completing their daily operational activities, which comes to over 1,840 KW of power / year. Some of the key benefits for petrol pumps that follow after installing solar panels are:
Reduced electricity bills as dependency on conventional electricity is reduced.
Reduced bills on running back up DG sets.
Government gives up to 30% subsidy for solar panels installations.
Tax benefits by going for accelerated depreciation.
Easy availability of loans at low interest rates for solar panel installation.