Solar Module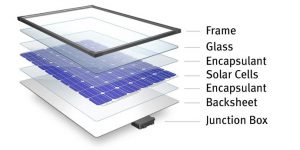 Solar module are electrically matched to assure the maximum power possible. These Solar Module System and Solar Panel Module are highly acknowledge for features like quality of lighting solutions. Solar Energy Modules are manufactured using the best technology and raw materials available. Highly transparent tempered glass plate, in front of the module offers protection against hazards such as rain, snow, ice and storms. The solar cell are fixed in ultraviolet stabilized. The highly corrosion resistant alloy frame provides structural support for the solar module. This module are constructed proven components that are designed to maximize lifespan and deliver superior efficiency.
The Solar Module includes :
Junction Box
The junction box is used for keeping the rigid connection block safe from dust and water. The box is fitted with one cable gland, which is used for taking out electrical connection from solar module. The box is fitted to aluminum frame that provides better mechanical strength.
Connection Block
There is 3 pole connection block inside the junction block. 2 bypass diodes are inserted in the box that protects the solar cells and provide an adequate "hot spot" protection. Solar modules with capacity of 20W or below are connected with junction box having 2 poles. There is no provision for connecting bypass diodes in these modules.
Construction
The solar module is supported by anodized aluminum alloy frame
The solar cells are embedded in ultraviolet stabilized ethyl vinyl acetate (EVA)
The module is constructed using impact resistant and transparent tempered glass plate.
The front of module is protected against environmental hazards such as rain, hail, snow, ice and storms.
The back of the solar module consists of a Tedlar-Polyster-Tedlar foil, which provides protection from moisture and dirt.
Features
Uses 36 numbers of solar cells
10 years product warranty
Highly efficient mono-crystalline or poly crystalline silicon solar cells
Designed for maximum reliability and minimum maintenance
Highly resistant to rain, water, abrasion, hail impact, and environmental factors.
Light weight anodized aluminum frame and pre-drilled mounting holes for easy installation
Specifications of Photovoltaic Crystalline Modules
12V (Other Voltages Optional)
Mono/Multicrystalline
IEC 61215 Ed. 2 certified
ISO 9001 certified
MNRE approved