Street Lightning System
Street lighting system are approved for their high efficiency, long lasting performance and it make significant contribution to the energy saving. It is a perfect solution for the street lighting in areas where street main is unavailable as it switches off automatically.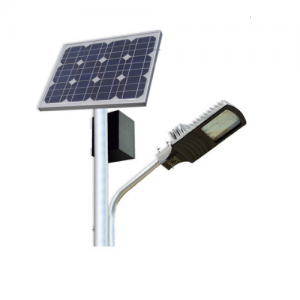 These lights generally installed in wide roads, railway junction and industrial areas. Street light with inbuilt charge controller enables dusk to dawn operation. This system consists of solar panels, batteries and the street lamp and are designed to work throughout the night.
Most solar panels turn on and turn off automatically by sensing outdoor light using a light source. Solar streetlights are designed to work throughout the night. Many can stay lit for more than one night if the sun is not available for a couple of days. Older models included lamps that were not fluorescent or LED. Solar lights installed in windy regions are generally equipped with flat panels to better cope with the winds.
Working : The sun light when falls upon the surface of solar cells inside the SPV module gets converted into DC electricity by means of direct photovoltaic conversion process.

Features
Highly energy efficient
Constant light output
Higher voltage protection
Low maintenance
No manual interruption
Customized timing options available
Dusk to dawn operation
Easy installation

Applications
Farm Houses
Schools
Residential Colonies
Factories
Parks
Road Lighting
Offices