Home Lightining System
Home lightning systems are source for providing indoor brightness in remote areas. It consists of the solar panel, suitable structure, battery, interconnecting cables and switches. These Solar Home Lighting System provides solar power for operating electrical equipment and are powered by solar energy using solar cells which converts energy directly to electricity. These Solar Lighting System are excellent solution for household level electrification in rural areas. Home lightning system harnesses the power of the sun to provide reliable, cost effective electricity wherever it is needed. The high quality home lightning systems are reasonably priced and can also be customized as per the specifications detailed by clients.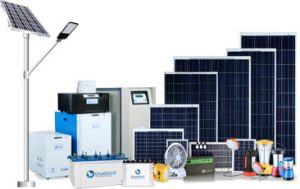 Features
Safe and easy to install
Free from smoke and noise pollution
Low self-discharge & Eco-friendly
Protected from overcharging and deep discharge of battery
LED indication for battery charging and low battery
Shock proof and short circuit protection
Working : When sun light falls on the top surface of the solar cells inside the SPV module it generates DC Electricity. The generated electricity can either be directly used during the sunshine hours or may be stored in storage batteries to be used later.