About Commercial Solar Roof Top
ZOOb INDIA offers a complete commercial solar solution for photovoltaic integration and connection including power conversion (in electrical distribution, monitoring, supervision and technical support. Schneider Electric provides the full solution from the panel DC output to the grid connection. While working on commercial projects, our team aims to reduce or eliminate the high costs that are associated with utility electric service. Our commercial solar systems combine economic and technology-based solutions that significantly reduce energy costs for business and commercial.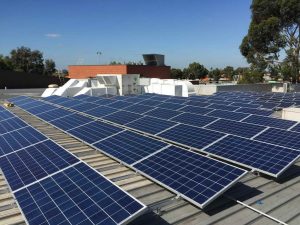 We committed to offering comprehensive alternative energy solutions that will continually add value to your business. Second, if your system generates more electricity you're need, your electric company will actually buy the excess power from you at competitive rates. Note, however, that you'll have to install a net-metering system in order to feed power back into the grid.
Commercial Solar is involved with the larger projects above 10kW in size. Commercial Solar has recently been involved with roof top PV solar energy system projects that are 30 kW, 70kW & 132kW etc in size. Commercial Solar power has the potential to save businesses and building owners even more money each year.